Humana | New updates from Vantage Hub! DE Status Check Tool!
Vantage Hub continues to deliver updates that make our agent's lives easier. See what we have in store for you this month: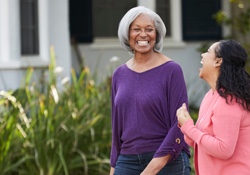 My Humana Business Center Updates
The Consumer Profile tab now displays both the residential as well as mailing addresses of your members so that all addresses are displayed for your convenience in the Consumer Profile tab.
The Consumer Profile tab now also displays the preferred language of the member along with dependent effective and termination dates.
DE-SNP Tool
The Dual Eligibility SNP tool is a new link on the Quote & Enroll card. This tool provides dual eligibility status for prospective members. If you have the member's Medicaid information, you can enter it into the tool and receive eligibility status back. You no longer need to call ASU to get this information as it is now at your fingertips through Vantage.
Notification card and the DEO link
Any Dual Eligibility Opportunities available are now displayed in a new notification card located on the Vantage dashboard. This will display any current consumers in your My Humana Business Center who have been identified to be newly dual-eligible.
Communications Tab
A new tab on the consumer profile section within My Humana Business Center provides non-PHI communications that are sent to your members so that you stay up to date on what your members are receiving from Humana.
Certification Button
There is a new, easy-to-find button on the Licensing, certification & contracts card to make your initial certification and re-certifying even easier!
Humana has introduced a suite of industry-leading technology tools designed to help make things easier and more efficient for today's Agent.
For more information, contact a Pinnacle Financial Services representative today
1 (800) 772-6881 x7731 | sales@pfsinsurance.com
Contact a Pinnacle Representative if you have any questions.
1 (800) 772-6881
support@pfsinsurance.com